It's the party that changes her world forever.
Josie discovers a magical underwater party that's better than any human party ever. It's a world where she finds her true self - and Imrie Sallow.
Above the water she feels lost in a world where she doesn't belong, with a sister who wants her to be 'happy and normal'. But a family secret emerges from the shadows of the ethereal world that changes everything.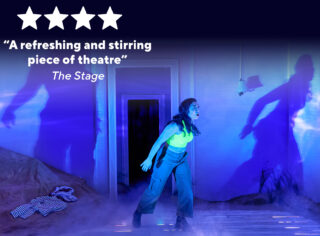 Imrie, the new play by Nia Morais (Crafangau / Claws, A Midsummer Night's Dream Sherman Theatre), is a magical Welsh language story for young adults and upwards about hope and bravery.
This is a co-production with Cardiff's Sherman Theatre, and directed by Gethin Evans (Woof, Ynys Alys, Galwad).

With captions in English and Welsh at every performance, Welsh-learners, new Welsh speakers and non-Welsh speakers can follow the show throughout.
Age guidance: 13+
Running time: 70 minutes
TOUR
Sherman Theatre, Cardiff 11 - 20 May*
Canolfan Celfyddydau Pontardawe 23 May
Canolfan y Celfyddydau Aberystwyth 24 May*
Galeri, Caernarfon 25 May
Theatr Clwyd, Mold 6 June
Pontio, Bangor 7-8 June*
Torch Theatre, Milford Haven 10 June
The Riverfront, Newport 14 June
Yr Egin, Carmarthen 15 June
Canolfan Garth Olwg, Pontypridd 16 June
*Audio description and British Sign Language performances.

A queer epic fantasy that is one part Sex Education and one part Avatar
The Stage
What can you expect from Imrie?
Imrie is a magical story for young adults and upwards about hope, identity and what it means to be an outsider. With stunning set design, and powerful music, you will be transported to another world as we follow two sisters on a journey of self-discovery. This is raw and honest new Welsh writing, exploring universal themes through a magical lens.

Fresh new Welsh writing
Nia Morais brings her first full-length play to the stage following her Welsh language adaptations for A Midsummer Night's Dream with Mari Izzard last autumn. Nia's contemporary voice blends lyrical description with modern Welsh dialogue.
It's a classic coming of age story

Nia Morais's beautiful, timeless fable is all about identity, what it means to fit in and what it means to embrace and be comfortable with who you are.
Who will enjoy Imrie?
Audiences of all ages from young adults upwards will be enchanted by Imrie. It will appeal to anyone who enjoys young adult fiction or powerful new writing for the stage.
You don't have to speak Welsh to enjoy Imrie
With captions in English at every performance, new and non-Welsh speakers can follow the show throughout.
Music by Eädyth Crawford
The Welsh electronic soul pop music producer and singer songwriter has composed a sublime new score for this world premiere production.
Did you know?
Imrie is the result of a long collaboration with Nia after she developed the play as part of 2021 Artist Development Programme with National Eisteddfod of Wales with the support of Literature Wales. The original name of the play was Dŵr Dwfn.
The highly acclaimed Croendena by Mared Llywelyn, which toured Wales in Spring 2023, came from the same development programme.
BSL AND AUDIO DESCRIPTION
The following are BSL (by Cathryn McShane) and Audio Described performances:
CARDIFF
Sherman Theatre
Friday
19 MMay
ABERYSTWYTH
Aberystwyth Arts Centre
Wednesday
24 May
BANGOR
Pontio
Wednesday
07 June
Cast: Elan Davies and Rebecca Wilson
Playwright: Nia Morais
Director: Gethin Evans
Designer: Cai Dyfan
Composer: Eädyth Crawford
Lighting Designer: Ceri James
Sound Designer: Sam Jones
Assistant Director: Enfys Clara

Photography: Mark Douet