This is the final public testing site of our new website. Let us know what you think!
It's the party that changes her world forever.
Josie discovers a magical underwater party that's better than any human party ever. It's a world where she finds her true self - and Imrie Sallow.
Above the water she feels lost in a world where she doesn't belong, with a sister who wants her to be 'happy and normal'. But a family secret emerges from the shadows of the ethereal world that changes everything.
Imrie, the new play by Nia Morais (Crafangau / Claws, A Midsummer Night's Dream Sherman Theatre), is a magical story for young adults and upwards about hope and bravery.
Directed by Gethin Evans (Woof, Ynys Alys, Galwad).

TOUR
Sherman Theatre, Cardiff 11 - 20 May
Canolfan Celfyddydau Pontardawe 23 May
Canolfan Celfyddydau Aberystwyth 24 May
Galeri, Caernarfon 25 - 26 May
Theatr Clwyd, Mold 6 June
Pontio, Bangor 7-8 June
Torch, Milford Haven 10 June
The Riverfront, Newport 14 June
Yr Egin, Carmarthen 15 June
Canolfan Garth Olwg, Pontypridd 16 June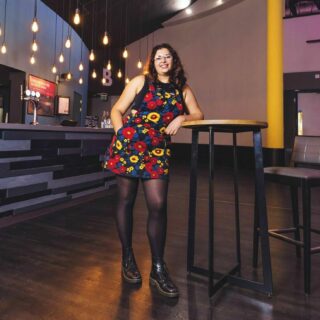 THE PLAYWRIGHT
Nia Morais arrived as one of the most exciting voices in Welsh theatre in the midst of the pandemic with the release of her first play Crafangau as part of Sherman Theatre's Heart of Cardiff audio series which was later staged in outdoor performances. Now Writer in Residence at Sherman Theatre, and following her work adapting A Midsummer Night's Dream in Welsh alongside Mari Izzard.
Playwright: Nia Morais
Director: Gethin Evans
Producers: Frân Wen and Sherman Theatre