Young people to share the hidden stories from their streets.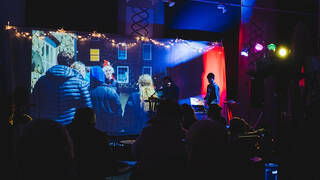 FA'MA is a series of unexpected events that bring the voices of young people to life.

In partnership with Gwasanaeth Ieuenctid Gwynedd, it's an ambitious creative concept where young people in rural communities in North West Wales collaborate with professional artists to create their own perspective of where they live.
MAKING THE FAMILIAR, UNFAMILIAR
Each project culminates in a live sharing event for the whole community to witness what the young people have to say - and get the chance to see the world through new eyes.
In the last 2 years we have held FA'MA events in Nefyn, Y Bala and Dolgellau.