Preparing to tour Ynys Alys
We're back!
Our first live touring production since Llyfr Glas Nebo in 2020.
Ynys Alys starts its national tour at Pontio Bangor on Thursday, 17 March 2022.
In our first live touring production since Llyfr Glas Nebo in 2020 - Ynys Alys is an original and bold new theatre production that centres around a young woman and her new found independence after she leaves home for the first time.
Combining gritty and honest beats, the soundtrack is composed and performed virtually by rap artist Lemarl Freckleton, named as BBC Introducing's Ones to Watch 2021 under his pseudonym Lemfreck, and Welsh pop artist Casi Wyn.
The tracks are a meeting of worlds and sharing of perspectives that weaves into the unfolding adventure between the characters as the soundtrack capturing their hopes and fears.
Casi Wyn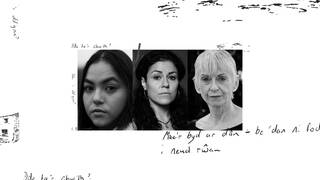 Stepping onto stage for her professional debut is Becca Naiga as Alys, the 18 year old trying to hold it all together as she navigates her way through an independent life.
Alys faces big questions about identity and what defines her - how does she make sense of herself in a world that is beyond all comprehension?
The show also stars Valmai Jones and Fflur Medi Owen as a mother and daughter falling through centuries as they grapple with the future of the house that has been in their family for generations.
It's an emotionally explosive portrayal of who we are in times of change, and what we hope to hold on to as we rebuild our world.
Gethin Evans, Ynys Alys Director