Summer/Autumn Programme 22
Over the next 3 months we'll be presenting a fresh off-centre exploration of live theatre that celebrates and elevates new voices. Young voices. Different voices. Your voices.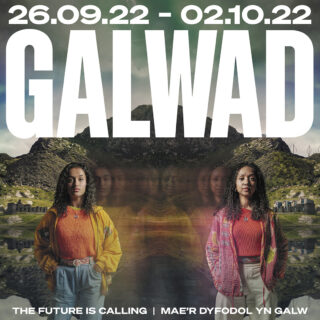 Galwad
We're proud partners on Galwad, a real-time story from our future which will broadcast across multiple channels this September.
Our Artistic Director, Gethin Evans, is directing the live production element of the broadcast which is part of an audacious blend of live, real-time digital theatre and television drama.
In keeping with our values, young people have been at the heart of the whole creative process. They've received incredible opportunities to collaborate with world-class artists and they have come together to imagine what a future Wales could look like.
Working with national and international partners, the story unfolds on S4C, Facebook, Twitter, Instagram, YouTube and TikTok over the course of a week culminating in a live theatre broadcast from Blaenau Ffestiniog followed by a television drama on Sky Arts.
When: 26 Sep - 2 Oct

CAST DRAMA 2052
Matthew Aubrey, Andria Doherty, Nitin Ganatra, Boo Golding, Nadeem Islam, Rhoda Montemeyor, Jenna Preece, Alexandria Riley.
CAST LIVE 2022
Aisha-Mai Hunte, Ciaran O'Breen, Gabin Kongolo, Meg Lewis, Ifan Coyle, Londiwe Mthembu, Andria Doherty, Rhodri Meilir, Mirain Fflur.
YOUNG COMPANY
Alex Stallard, Anna Amalia Coviello, Barney Andrews, Beth Handley, Buddug Roberts, Deane Bean, Gwyn Daggett, Hedydd Ioan, Laurie Thomas, Paul Kaiba, Rha Arayal, Shakira Morka.
WRITING TEAM
Megan Angharad Hunter, Emily Burnett, Katie Elin-Salt, Mathew Evans, Ciaran Fitzgerald, Greg Glover, Hanna Jarman, Jamie Jones, Steven Kavuma, Edward Lee, Catherine Linstrum, Fiona Maher, Darragh Mortell, Eric Ngalle Charles, Owen Sheers, Marvin Thompson.
Frân Wen at the Eisteddfod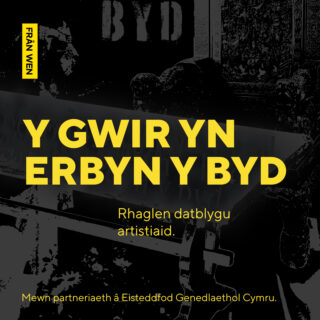 Y Gwir yn Erbyn y Byd
Four incredible multi-disciplinary artists have teamed up to explore and share new work at this year's Eisteddfod.
The young artists have been inspired by training received from renowned theatre makers Marc Rees and Alan Lane (Slung Lo Theatre) as part of our Artist Development programme with the Eisteddfod.
So, if you're heading to Tregaron, keep an eye out for a peculiar grandfather clock and a huge round table…and pop over to see what's going on…
Artists: Juliette Manon Lewis, Elis Sion Pari, Rhiannon Williams, Nia Hâf.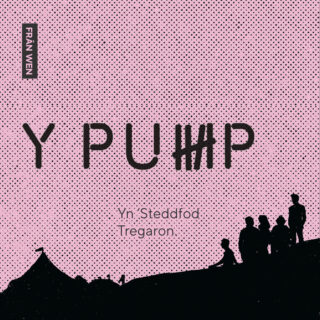 Y Pump
We're bringing the Book of the Year winning series (Children and Young People Award Winner and Barn y Bobl Award Winner) to life for the very first time on the last Saturday of the Eisteddfod.
Tim, Tami, Aniq, Rocyn and Cat will share their version of the Tregaron Eisteddfod as part of a performance gig at Caffi Maes B.
Come to experience a week in Tregaron in the company of the five friends, with music by Eadyth and Lewys.
Where and when: Saturday, 6 August, 7.30pm, Caffi Maes B
Actors: Carwyn Healy, Becca Naiga, Rebecca Wilson, Beca Llwyd, Dervla Hollie Eve Whiteway
Writers: Elgan Rhys, Tomos Jones, Mared Roberts, Ceri-Anne Gatehouse, Marged Elen Wiliam, Mahum Umer, Iestyn Tyne, Leo Drayton, Megan Angharad Hunter a Maisie Awen.
Project Director: Elgan Rhys
Live Event Director: Gethin Evans
Partners: Y Lolfa, AM, Maes B, Eisteddfod Genedlaethol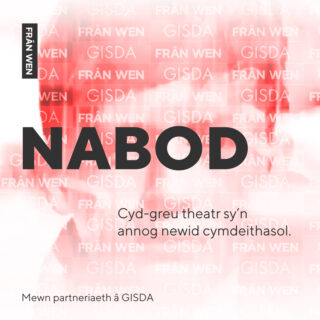 Nabod
Following training from Cardboard Citizens Theatre, NABOD our recently announced partnership with Gisda, the charity who offers support and opportunities to young people in Gwynedd, kicks off this August with a series of drop in sessions in Caernarfon, Pwllheli and Blaenau Ffestiniog.
Inspired by multi-disciplined artists and young people in hubs across North West Wales we will be co-creating a new piece of innovative theatre that elevates the voice of the individual and brings about social change.
Creative Team: Elis Pari, Lynwen Hughes, Sion Parry, Elgan Rhys, Ellie Stringer.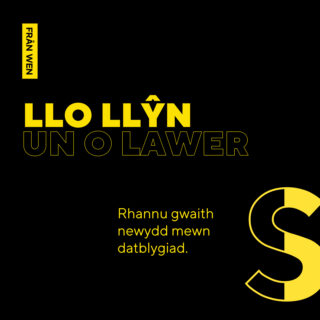 Sgratch
Our work-in-development showcase event returns in Autumn 2022!
The live event is a double-header featuring sharings from our productions, Llo Llŷn and Un O Lawer.
Llo Llŷn is a coming-of-age comedy drama written by Mared Llewelyn and developed as part of our Artist Development Programme in 2021. The production is set to tour community venues in Spring 2023.
Un O Lawer is the latest production in development by our Young Company which will be presented in April 2023.
Where and when: Thursday, 20 October, 7.30pm, Y Shed, Felinheli (ticket info to be released soon)